Halloween 2004
These items are also available at the Pendleton Arts Center, Pendleton, Oregon, on Wednesday, September 29, and the FolkWorks Gallery, 1310 1/2 Chicago Avenue, Evanston, IL 60201, 1-847-328-0083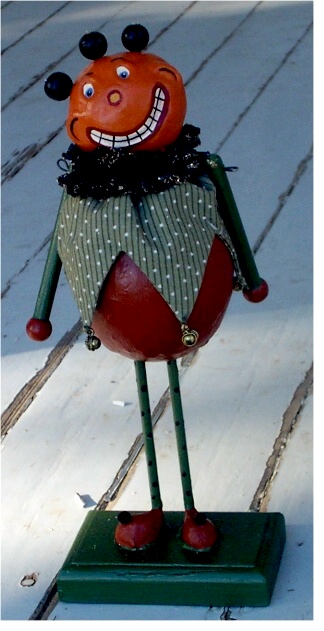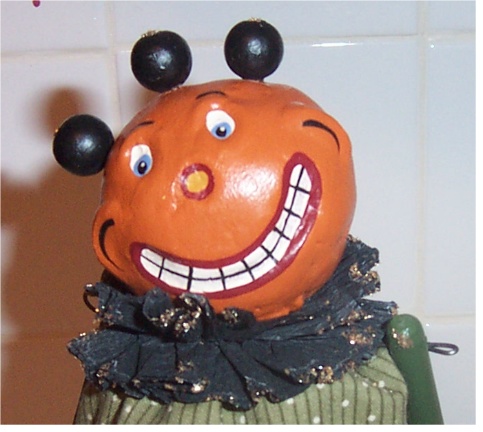 1. Jinglejack, Stands about 10 1/2" high, has hinged arms, a fabric top with bells, a crepe ruffle at the neck with glitter trim, and pom pom accented feet. $70 SOLD OUT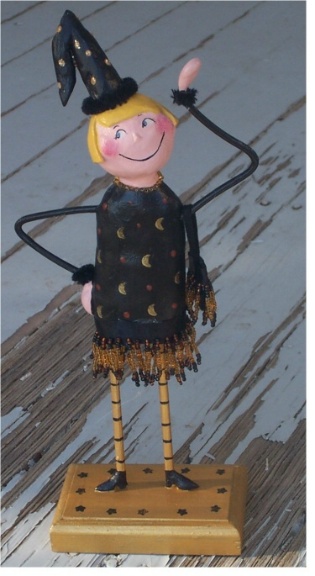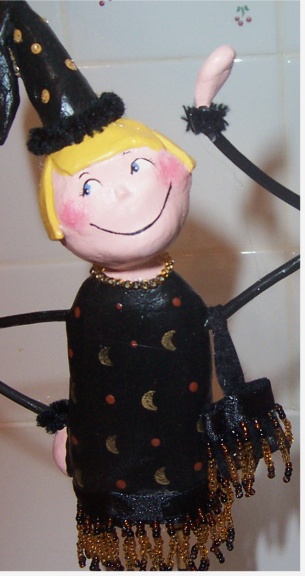 2. Millicent the metropolitan witch is about 11" tall, she is sporting chenille trimmed hat and sleeves. Her hat also has gold glittered polka dots. Her moon patterned dress and black wool felt bag are trimmed in strings of beads. She has stripy legs, ankle boots and a necklace of gold beads. $80 SOLD OUT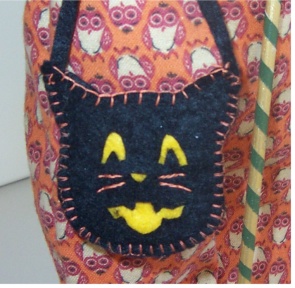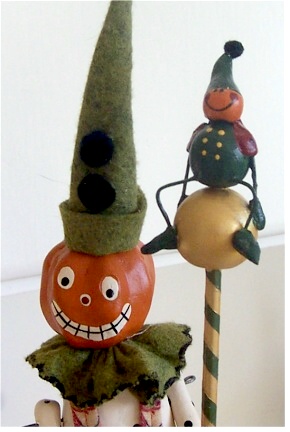 3. Tall pumpkinman is about 21" tall. He has fabric overalls in a owl pattern, wool felt hat and ruffle, hinged arms, an embroidered wool felt cat bag, pom pom trimmed hat and shoes, and is holding a goblin on a stick. $80 SOLD OUT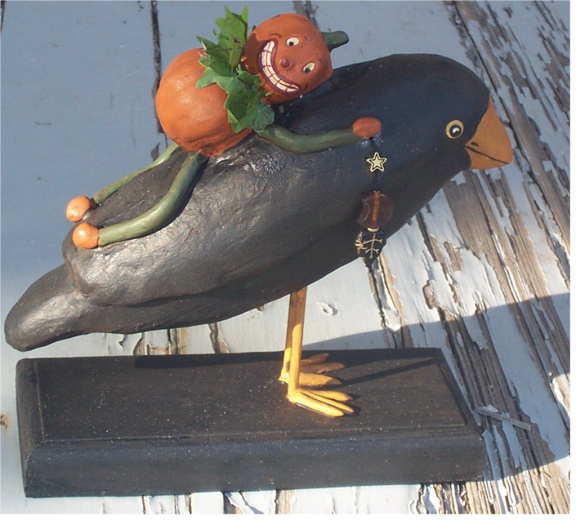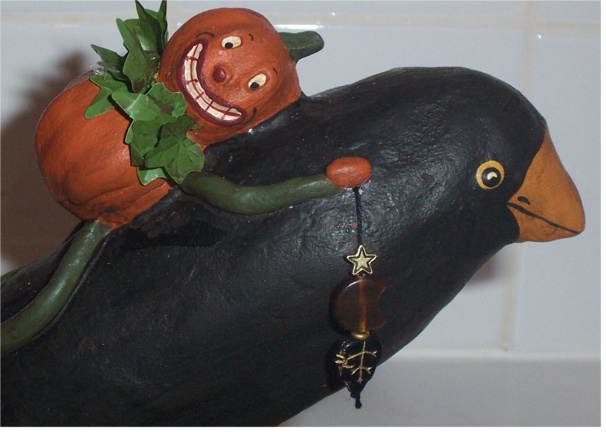 4. Pumpkinman riding crow is about 6" high and 6 1/2" wide. Pumpkinman has a leafy collar decoration and is holding a string of moon and star beads. $110 SOLD OUT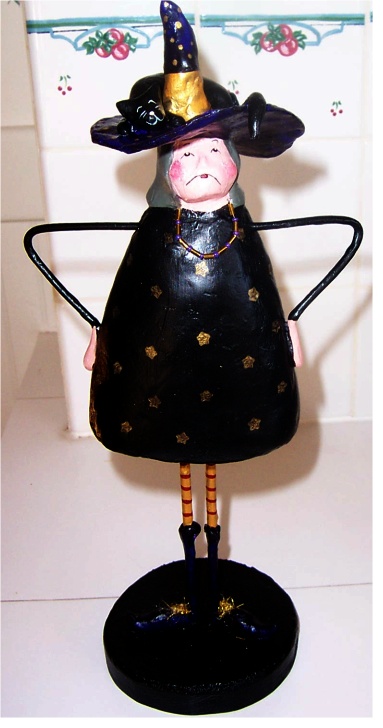 5. Witch Betty is about 13" tall, she has a purple hat and boots, her cat Badness on her hat, her black dress is decorated with gold metallic stars, legs are red stripy, and she sports a beaded purple and gold necklace. $120 SOLD OUT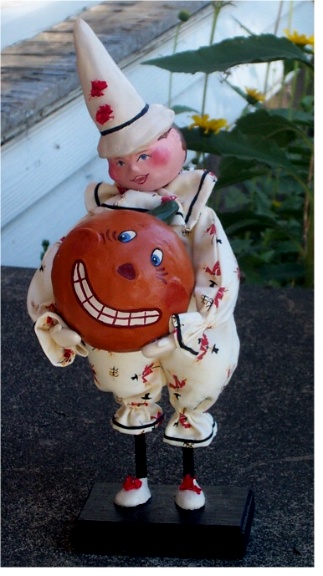 6. Clown boy is 12" tall. His pumpkin is about 3" diameter. He is wearing a clown suit with a miniture print of scarecrows, it has black ribbon trim and a neck ruffle. His shoes and hat are trimmed in red crepe pom poms. $100 SOLD OUT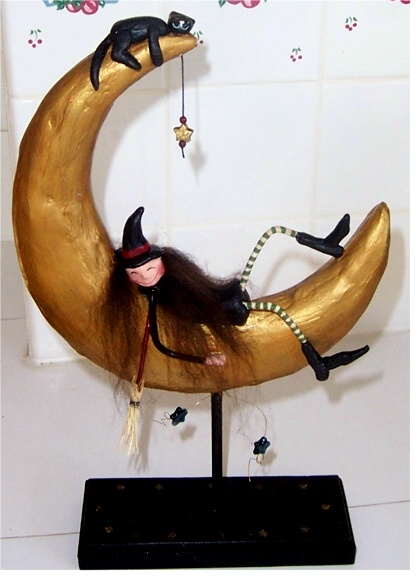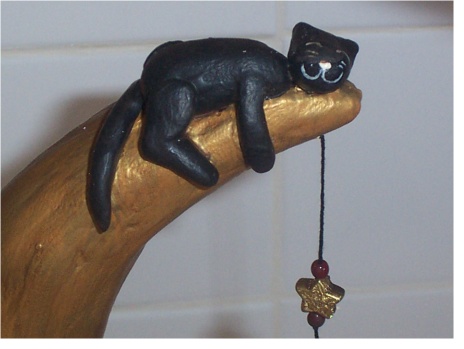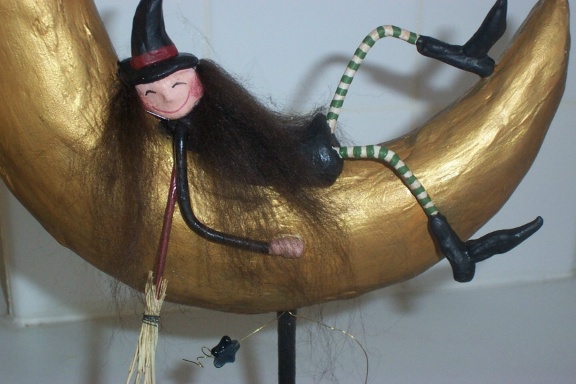 7. Winded Witch with Hillyard her cat, are beaching out on the moon. She is about 13" high. She has green stripy legs, her broomstick tucked under her arm, a star hanging from the end of the moon, and a couple up glass stars dangling from wire below. $150 SOLD OUT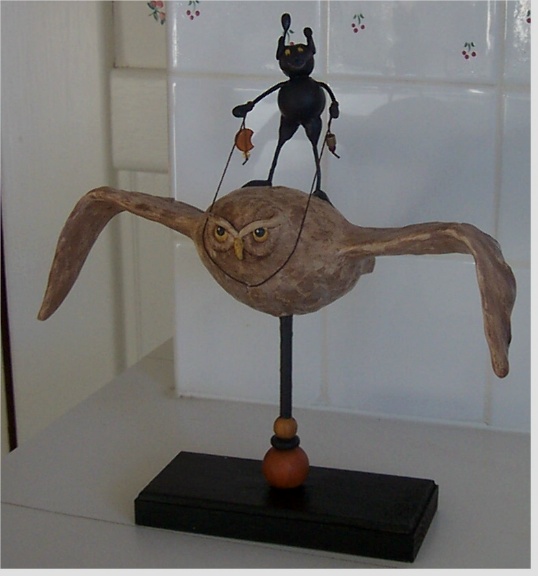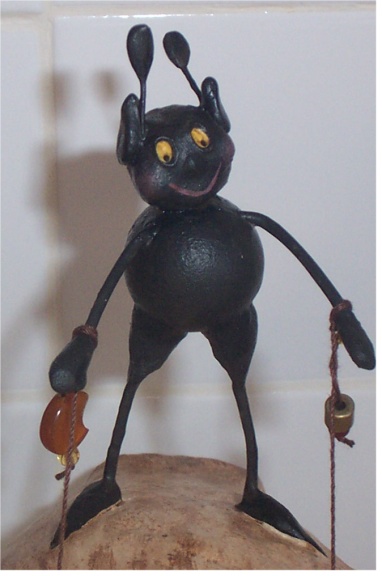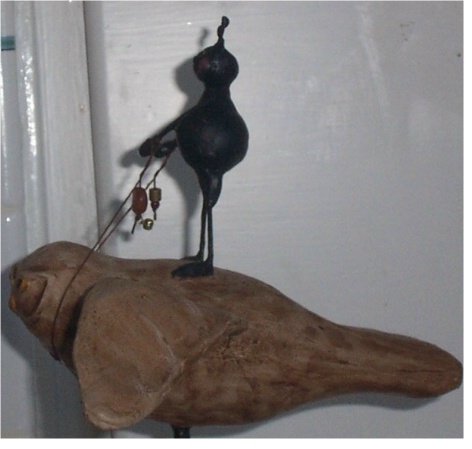 8. Goblin riding owl, is about 10" high and 11" across. He's a hanging on tight, ready for the ride. He is has beads dangling from the reins. $150 SOLD OUT
THESE ITEMS ARE AVAILABLE ONLY AT FOLKWORKS GALLERY:
Witch on pumpkin with fabric ruffles is about 7" high. She is holding a latern with a black cat pattern. $50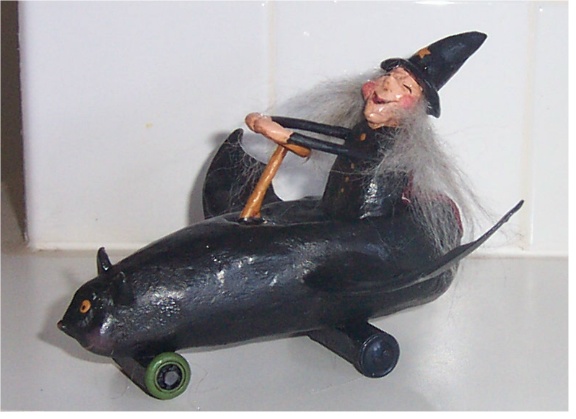 Clown riding bat is about 10" high. $130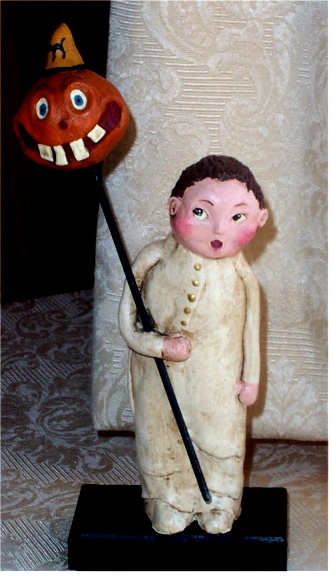 Boy holding scarey pumpkin is about 9" high. $90
To place an order or to contact me please email at:bridges@gohighspeed.com
All images are the property of Dawn Tubbs and may not be reproduced.