Halloween 2007
These items are also available at the Pendleton Arts Center, Pendleton, Oregon, they can be contacted at artscntr@uci.net for inventory and prices, and at the FolkWorks Gallery, 1310 1/2 Chicago Avenue, Evanston, IL 60201, 1-847-328-0083
1. "Normella" is a tall gal, about 23" high, her base is 3" x 6", her body and hat are carved from wood, her head is paper mache. She sports gray wool roving hair, green stripy legs, a bat border on her orange skirt and a black wire hat band with green glass beads. She is holding a green broom with three halloween heads. She is waxed and antiqued. SOLD OUT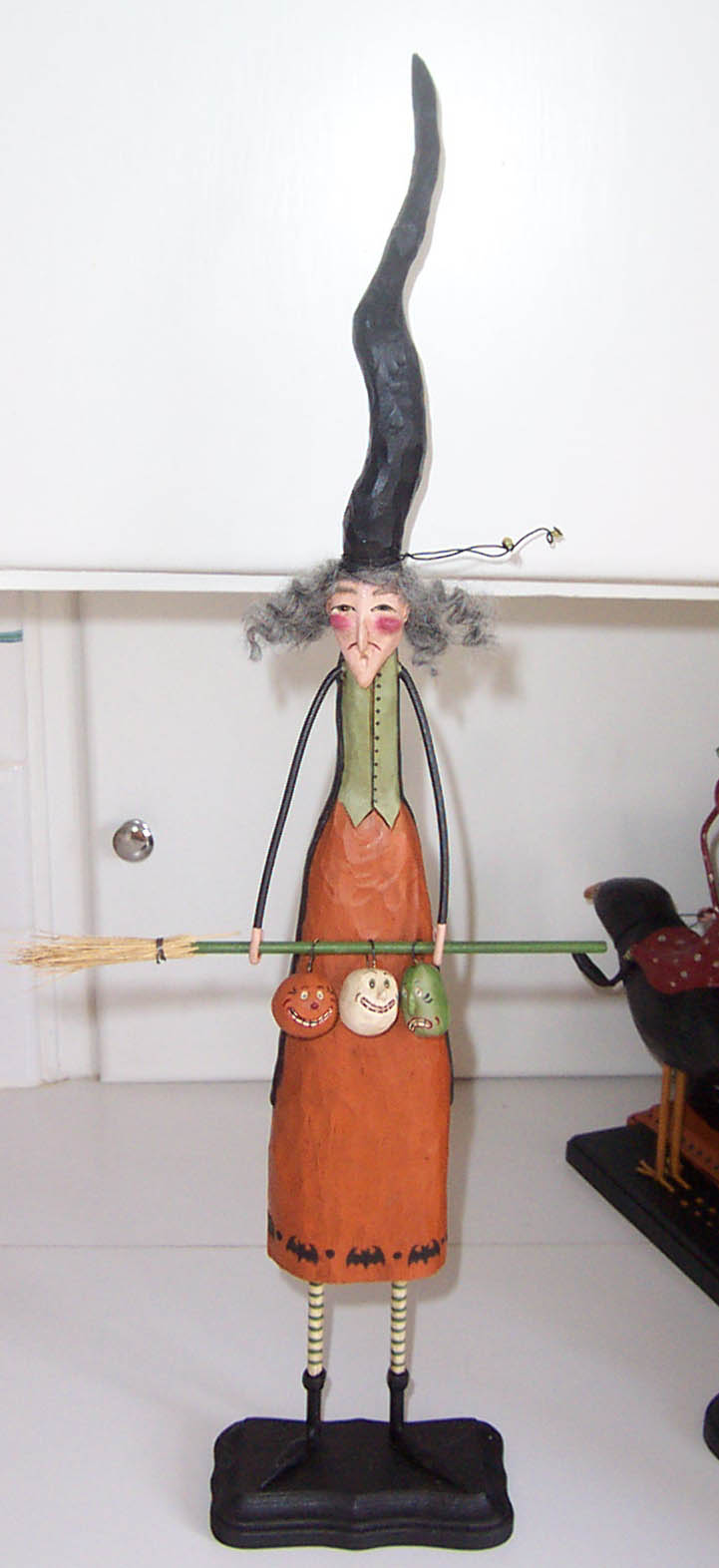 2. Skelly guy is about 17" tall, base is 3" x 6", stripy pants, gold vest, and black tails. This guy is carved from wood with a paper mache head and jacket, he is waxed and antiqued. He is holding a devil on a stick. SOLD OUT

3. Yvonne the dancing witch, this gal stands about 13" to the top of her hat. Her body is carved wood, while her head hat and boots are paper mache. She has green stripy legs, red boots, a purple dress with an orange cat decoration, red wool curly hair and a red broom. She is waxed and antiqued. SOLD OUT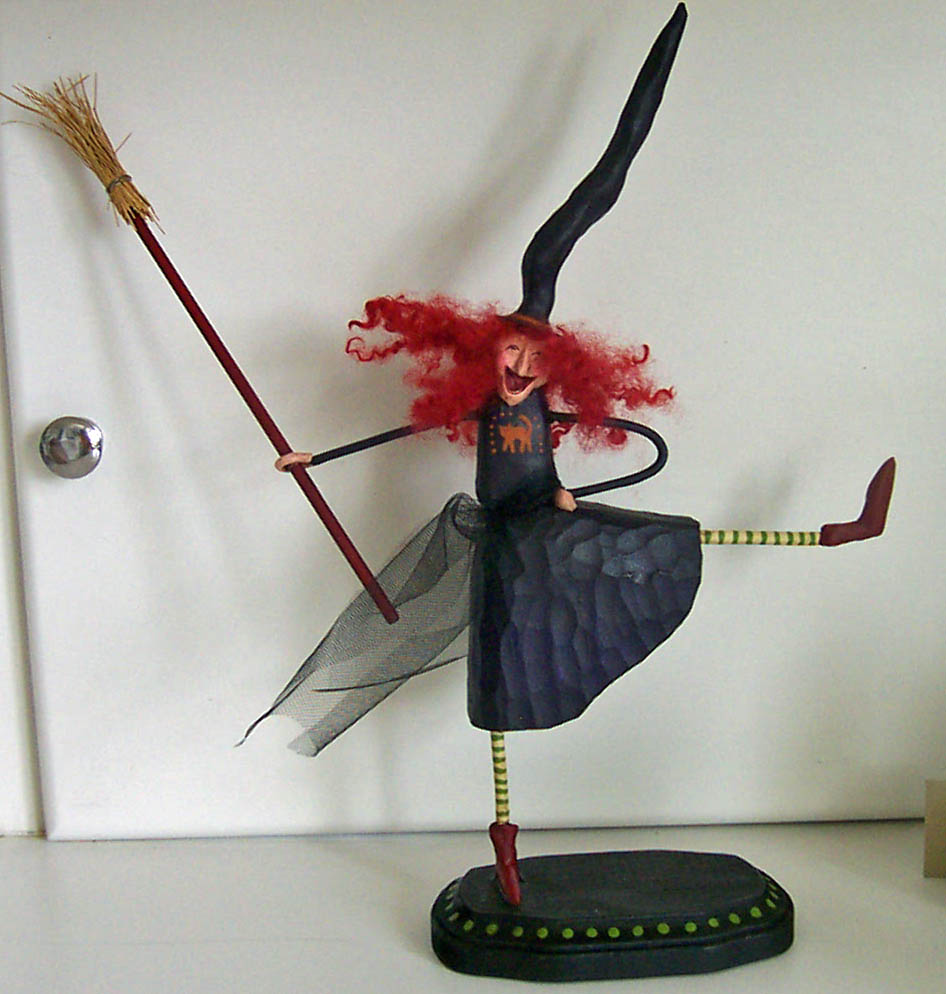 4. Skeleton guy stands about 10" high, his body is carved from wood while his head is paper mache. He is wearing a rust colored hooded coat with orange dots and black moons. He is holding a staff with the word "HAINTS" printed on the circles on both sides. His black base is decorated with stars and dots. SOLD OUT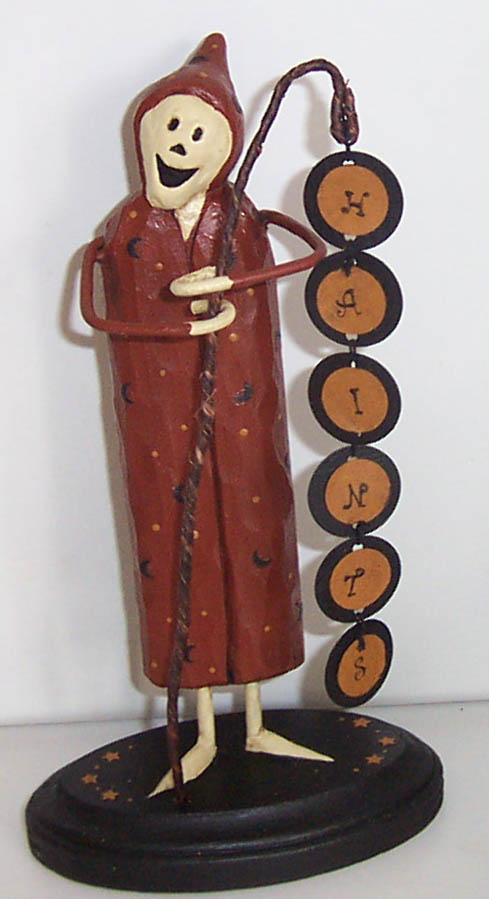 5. Pumpkin Jack is about 11" tall. His body is carved wood and pumpkin head is paper mache. He has a yellow shirt with black polka dots, green pants, red striped socks, and orange shoes. He is holding his pet goblin "Trouble". SOLD OUT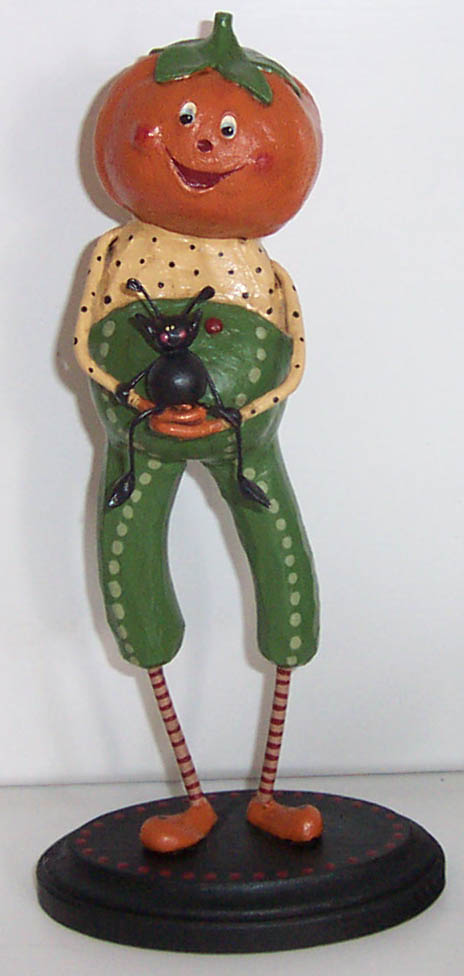 6. Cleora the Raven Riding Witch YAHOO! This gal is about 11" high on a 7 1/2" x 2 1/2" base. She choose her red dress with metallic silver dots as it come with the matching hat with stampede strings. She has purple hair, black boots with orange buttons, green striped legs, and green glass earrings. Her stead is about 9" from the tip of his beak to the tip of his tail. SOLD OUT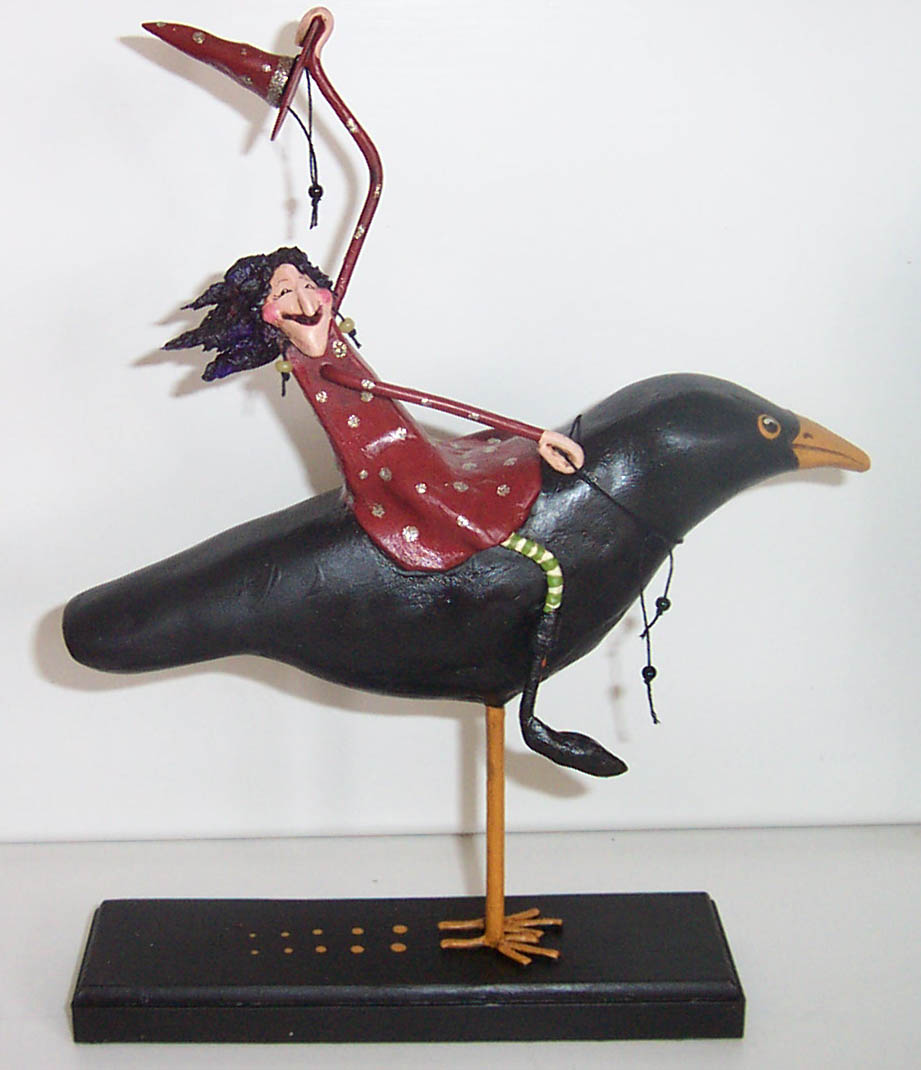 7. Brier choose the WITCH as her costume, her Mom thought it was a rather appropriate choice. She stands about 11 1/2" tall. Her black dress is decorated with gold dots and a gold cat. She holds a green scepter with a black cat on top. Her hat is decorated with a black wire and black and red glass beads. Her black base is decorated wit gold stars. SOLD OUT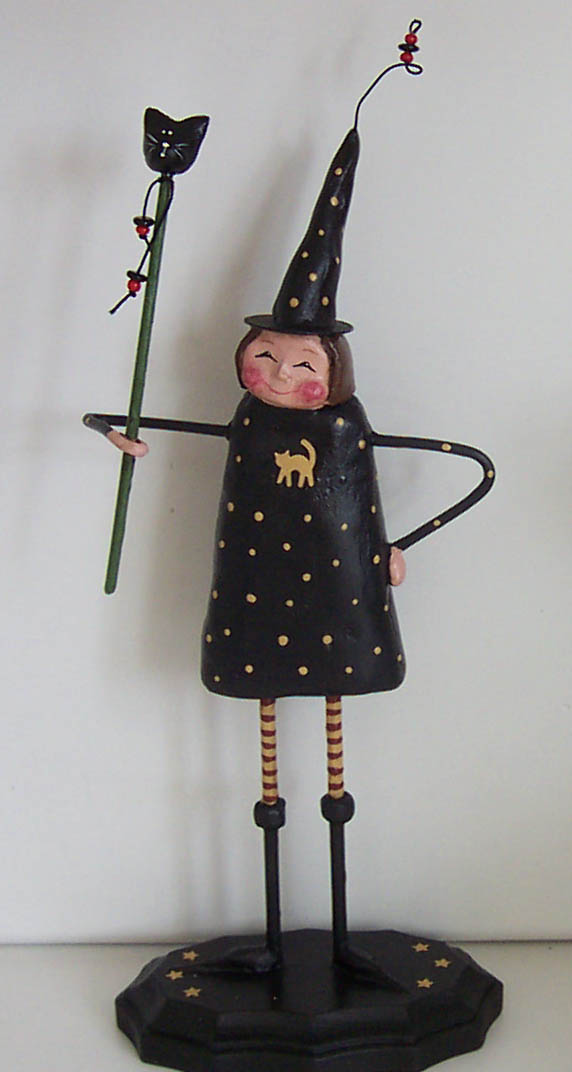 8. Jimbob went with the bat look! He stands about 9 1/2" tall. His bat suit is decorated with a gold bat, he is holding a small black bat along with red and black glass beads. His black base is decorated with gold stars. SOLD OUT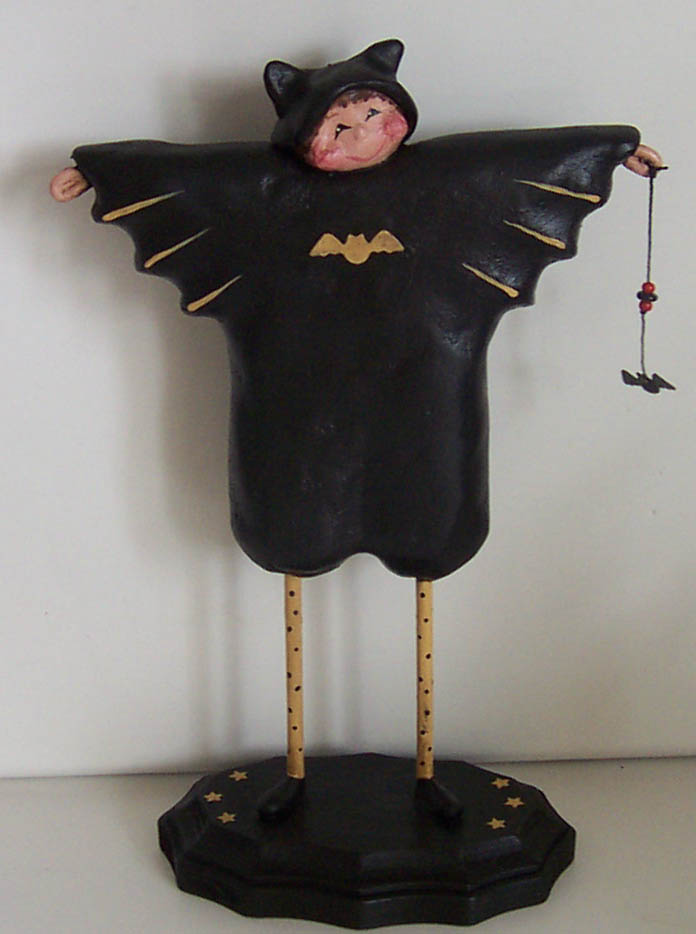 9. Witch in Pumpkin, this damsel is sitting in the mouth of her pumpkin. She stands about 7 1/2" tall. Her dress is black with gold buttons, gray hair, purple stripe legs and a black hat decorated with a silver star. $SOLD OUT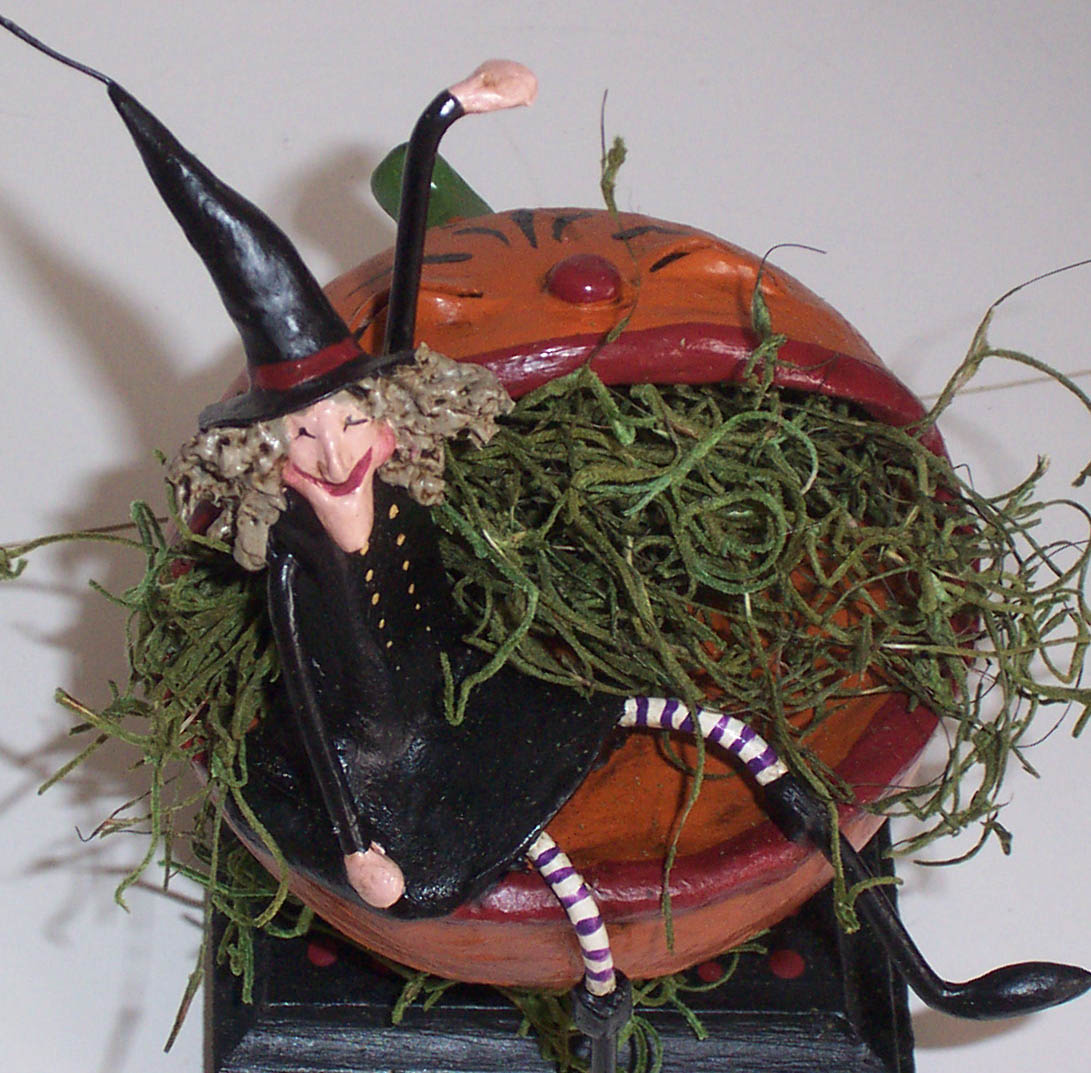 10. Devil on Pumpkin, about 8 1/2" tall. Patterned after the German Vintage candy containers. SOLD OUT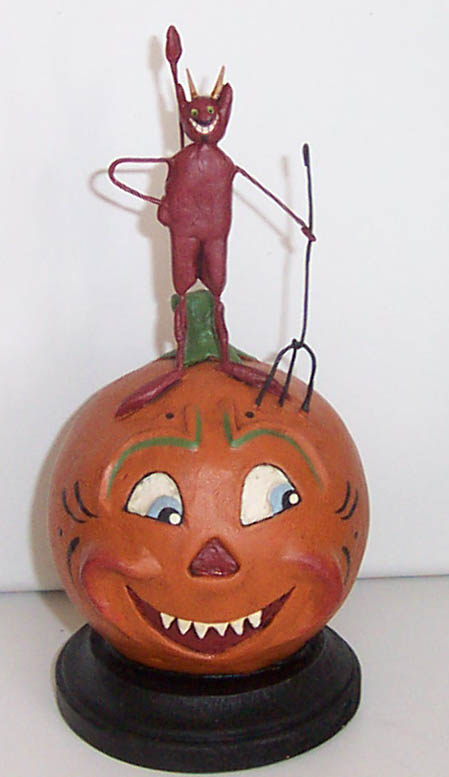 11. Green Witch on Black Cat, about 10" tall, her green hat is decorated with red wooden bead and black glass beads, and gray wool roving hair. The black cat is patterned after vintage paper mache candy containers. SOLD OUT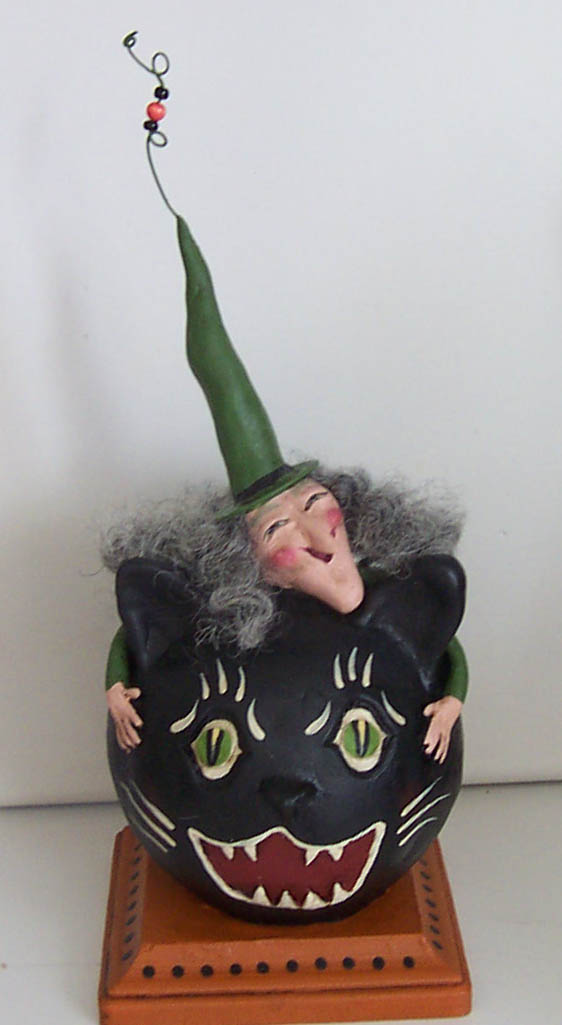 12. Five little witches on the Moon, these dolls are perched on a wooden Moon guy. The moon is about 12" tall, while the base is about 6" x 2 1/2" tall. The witches have red wool hair and wire decoration on their hats with black and green glass beads. The moon guy has a gold star and black beads hanging from the top curve. The navy base is decorated with gold metallic stars. SOLD OUT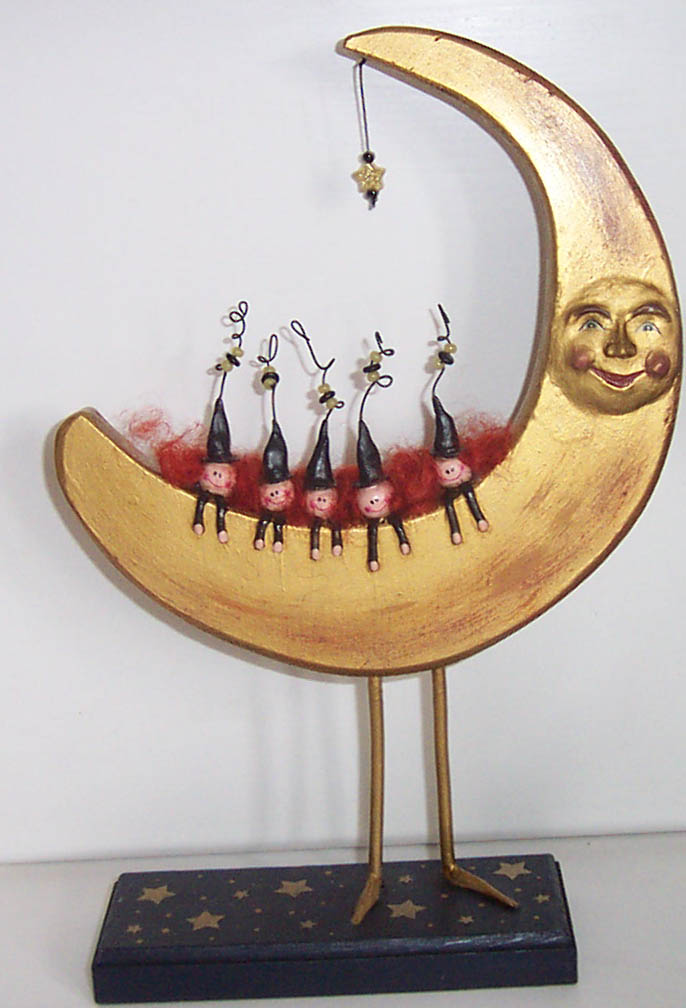 13. Costume kids, kids in costumes, witch, bat, strawberry, pumpkin, bee, and ladybug. All are carrying wool felt trick or treat bags. These are available only at the Pendleton Arts Center.

To place an order or to contact me please email at:bridges@my180.net
All images are the property of Dawn Tubbs and may not be reproduced.