Holidays 2005
These items are also available at the Pendleton Arts Center, their Christmas show opens on November 25, they are happy to ship and can be contacted at :artscntr@uci.net, at the St. Anthony's Festival of Trees, December 3rd and 4th at the Pendleton, Oregon Convention Center and Folkworks Gallery, Chicago, 1-847-328-0083
Shipping is $5.00 per package.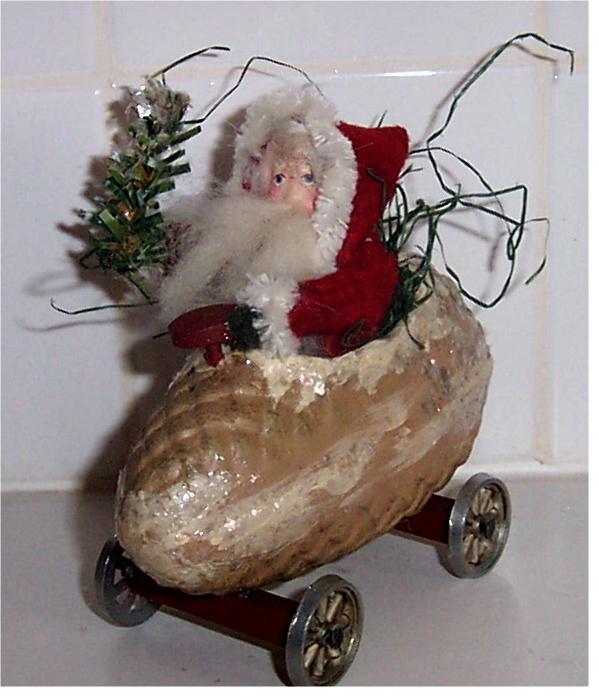 1. Santa in German style pinecone car, metal wheels, wool felt coat trimmed in chenille, holding a small tree. He is about 4 1/2" long and 4 1/2" tall, SOLD OUT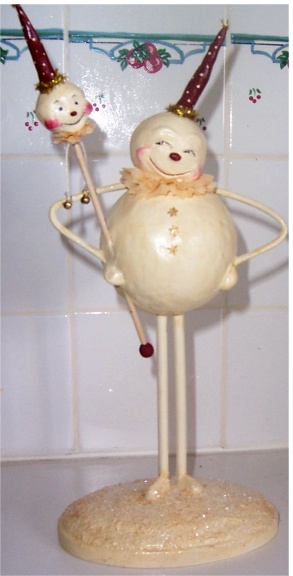 2. Snowman with tall pointy hat, holding snowman on stick. They are both trimmed with crepe collars and metallic hat trim. He stands about 11 1/2" tall to the top of his hat, SOLD OUT
3. This guy is about 8 1/2" tall, he is holding a santa doll, has a glittery mica finish and a holly garland on head, SOLD OUT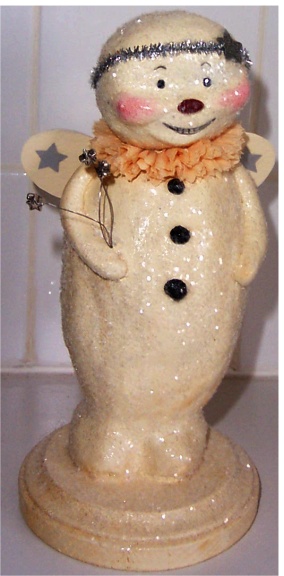 4. This is a snowman angel, about 8 1/2" tall, with glittery mica finish, has a silver metallic head band with star, crepe collar and is holding a star bouquet, SOLD OUT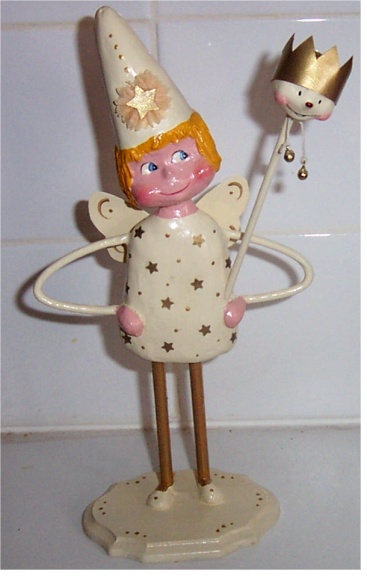 5. Angel with with snowqueen on stick. She is about 10" tall to the top of her pointy head. Her hat is decorated with a crepe round and star. SOLD OUT
6. Angel holding jointed raggedy doll. She is about 10" tall, and is decorated with dark red snowflakes, SOLD OUT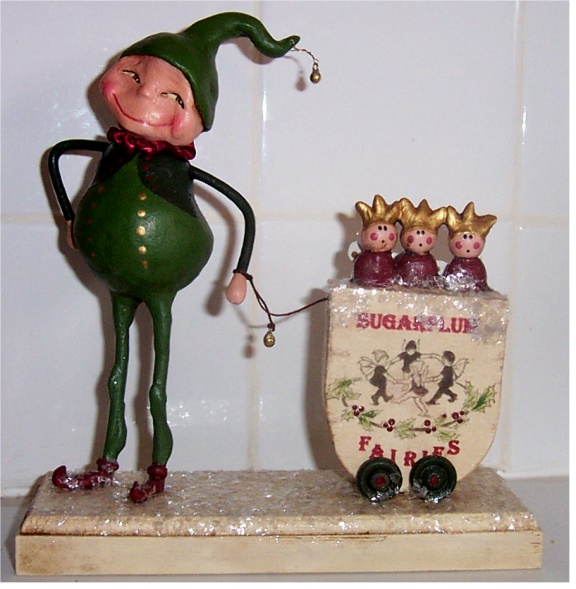 7. Elf pulling a wagon of sugarplum fairies. The base is 2 1/2" x 7", he stands about 7" tall. He has a satin ruffle at neck and a bell on his hat. SOLD OUT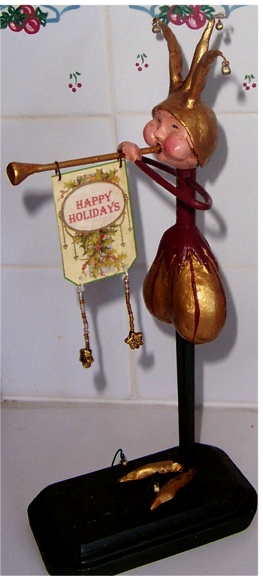 8. Herald is about 12" tall to the top bell of his 3 pointed hat, blowing horn with paper banner decorated with beads. SOLD OUT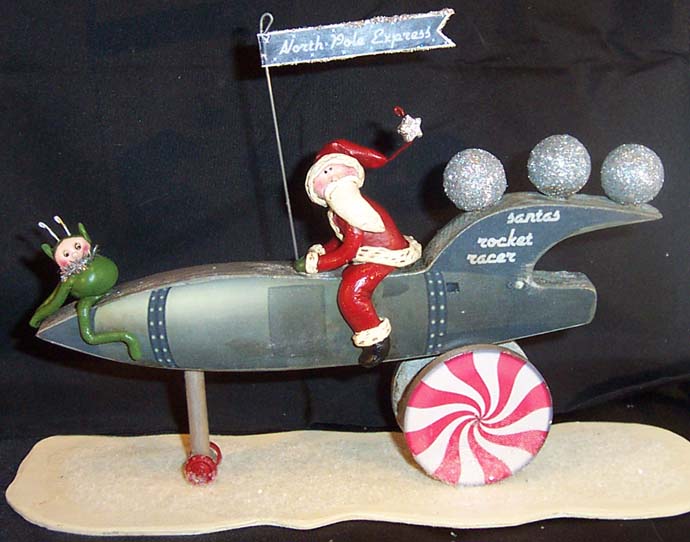 9. Santa on his rocket traveling above the earth. He is about 8 1/2" tall, has a grey bag decorated with greens and bells. SOLD OUT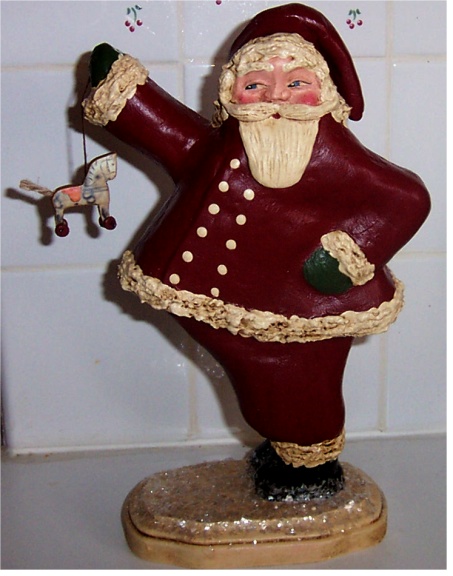 10. Santa holding red wheeled horse toy, he is about 9 1/2" tall. SOLD OUT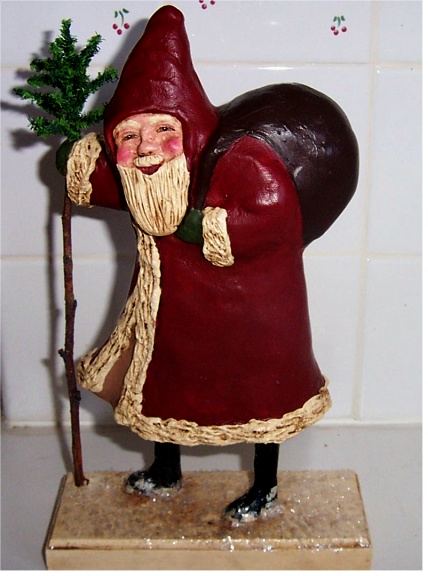 11. Santa holding tree on long stick, about 10 1/2" tall, SOLD OUT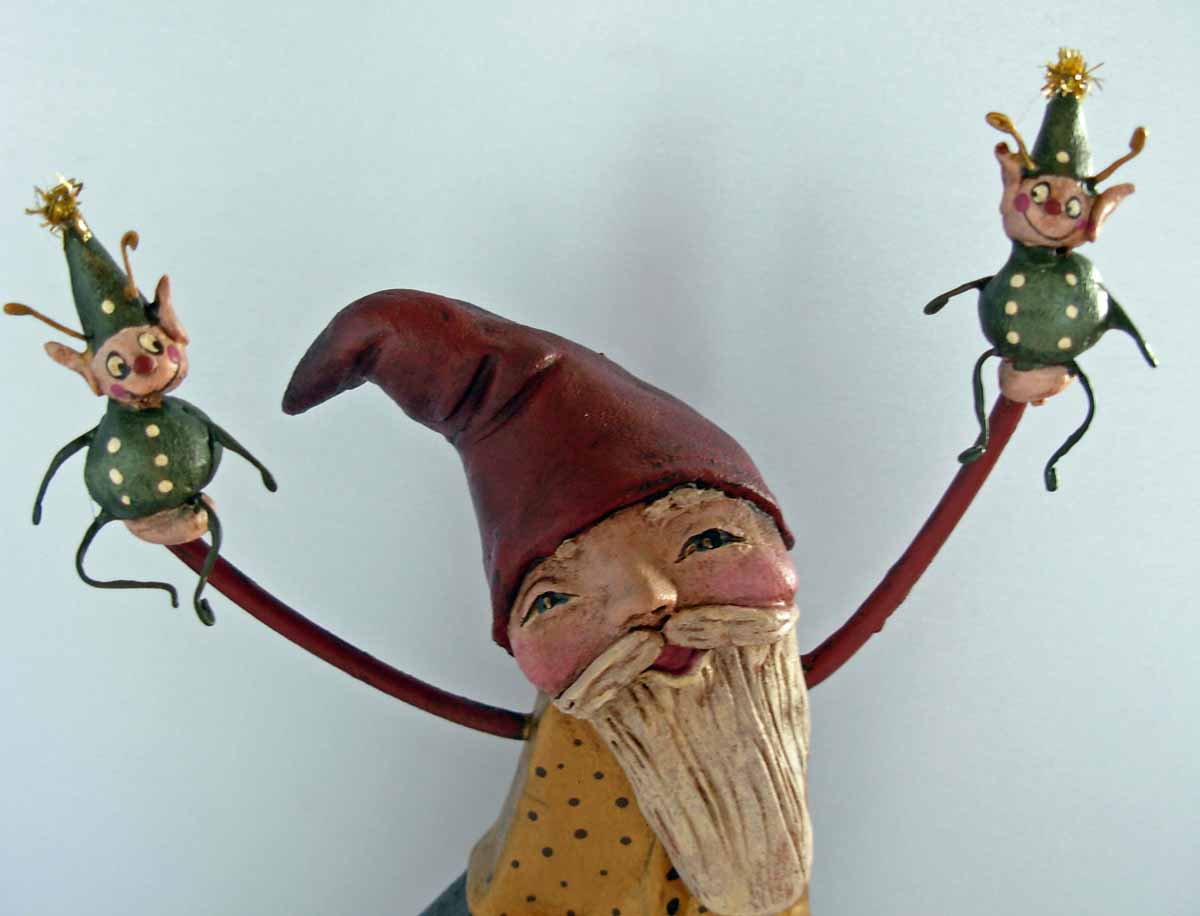 12. Santa with elf on shoulder, this guy stands about 13 1/2" tall, is holding a wreath with a paper happy holidays banner. SOLD OUT
To place an order or to contact me please email at:bridges@my180.net
All images are the property of Dawn Tubbs and may not be reproduced.