These items are also available at the Pendleton Arts Center, their Christmas show opens on November 16, they are happy to ship and can be contacted at artscntr@uci.net, at Folkworks Gallery in Evanston Illinois, they can be contacted at 1-847-328-0083, and also at the St. Anthony's Festival of Trees, December 1st at the Pendleton, Oregon Convention Center

Shipping is $5.00 per package.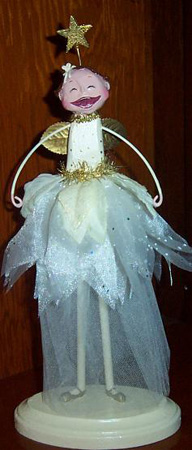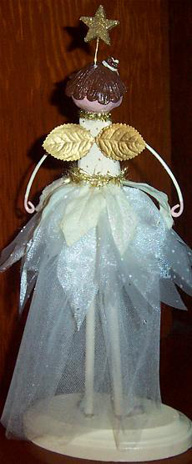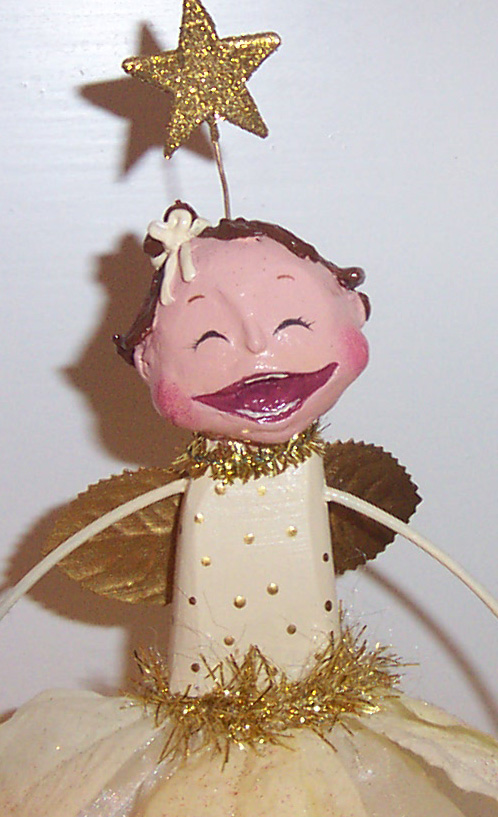 1. White Poinsettia Angel, This jolly holiday doll is about 12 inches high to the top of her gold glittery star, she has a layer of off white netting, off while sparkling tulle, then poinsettia leaves. She has metallic leaf wings and gold metallic shoes. SOLD OUT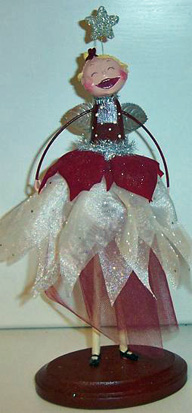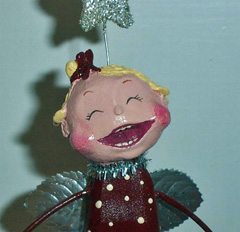 2. Red Poinsettia Angel, same as above with red and silver. SOLD OUT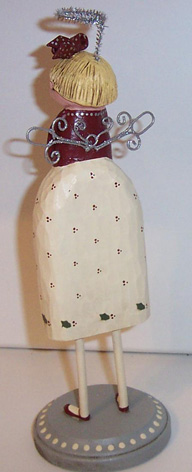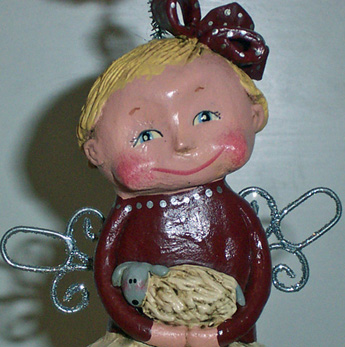 3. Angel Holding Sheep, about 12 inches tall to top of halo. She has a wooden base, legs and a carved wood body. Her head, arms and sheep are paper clay. She has metallic silver wings, a polka dot hair bow and red mary janes. SOLD OUT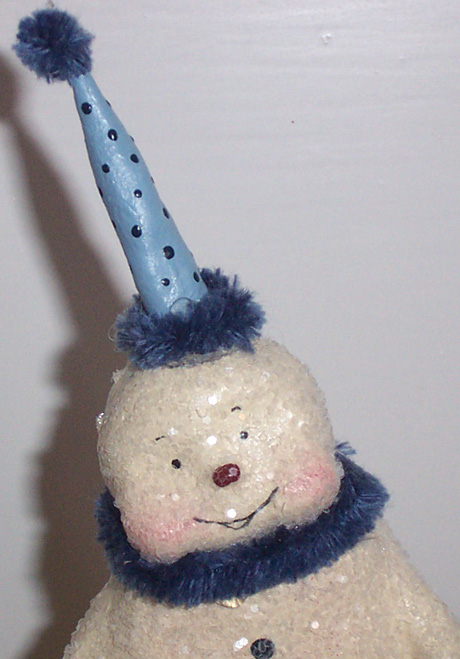 4. Snowman Standing on Snowball, about 11 1/2 inches to the chenille pom pom on the top of his blue hat. He is sculpted of paper clay. He is holding his beloved tedy and is decorated with blue chenille. They are all over covered in a glittery white. SOLD OUT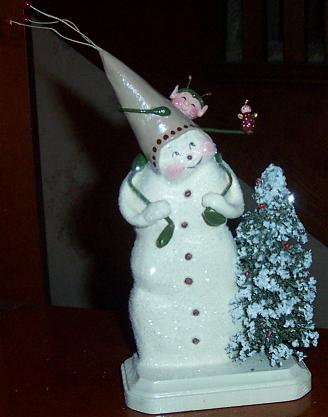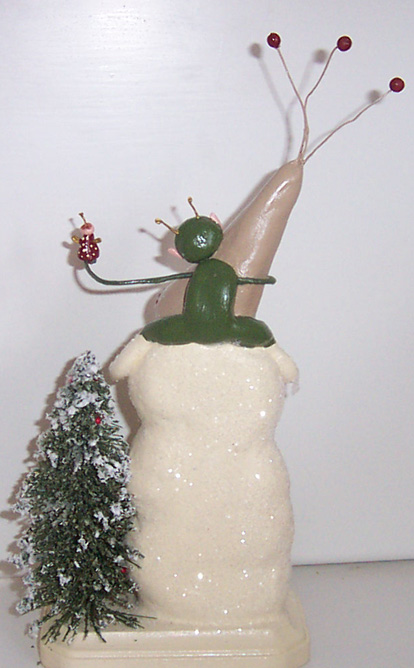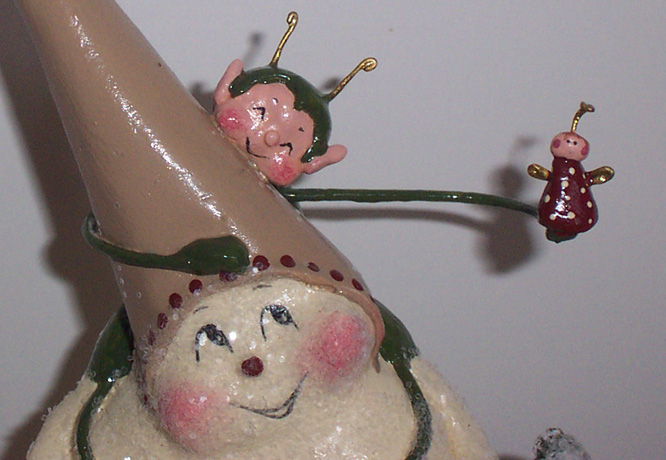 5. Snowman with Elf on Shoulders, Mac the elf here (a.k.a. Monkey) is helping Breezy get the tree top angel in place. Stands about 10" to the top of Breezys' hat, sculpted of paper clay. His hat is decorated with red wooden beads. The angel has gold wings and halo, while the bristle tree is decorated with snow and red berries. SOLD OUT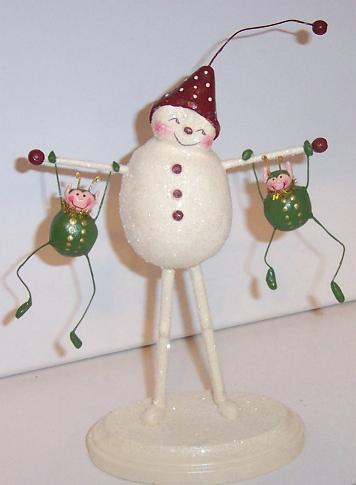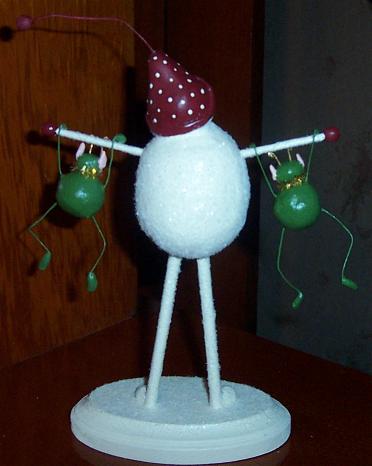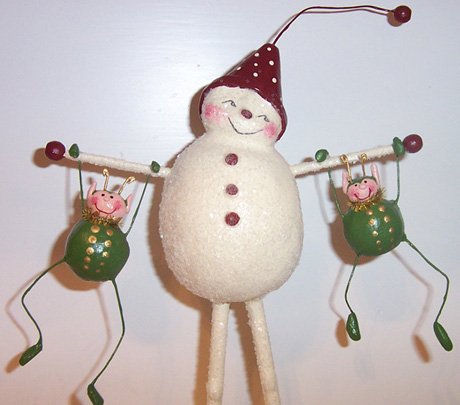 6. Snowman Holding Elves, about 9 1/2" to top of snowmans hat. This guy sports a polka dot hat with a red wooden bead on a wire. Two elves are in the traditional elf green with gold metallic accessories (such as buttons and antenna). SOLD OUT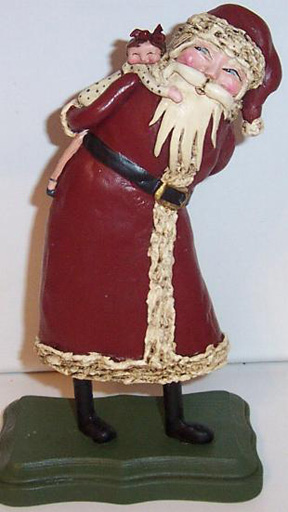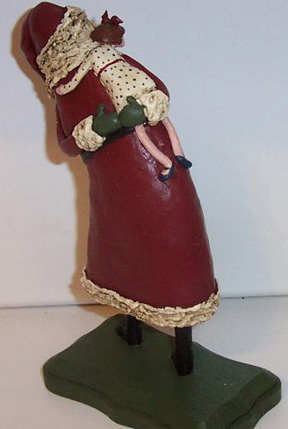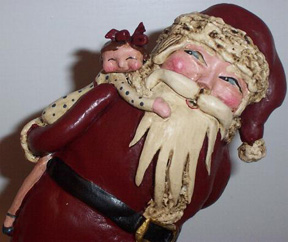 7. Santa with Ellie on Shoulders, about 9" tall. Ellie is dressed in a white dress with blue polka dots, a red sash and matching red hair bow. Sculpted with paper clay. SOLD OUT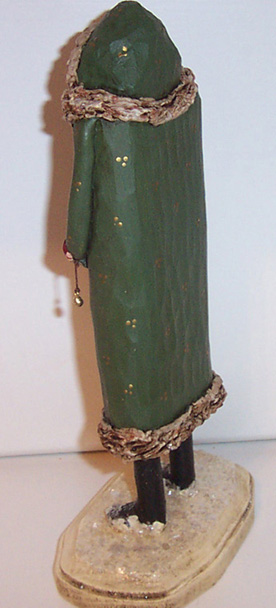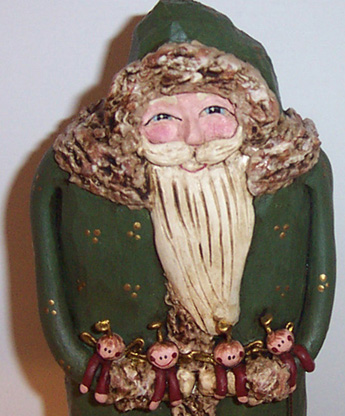 8. Santa with an Armload of Angels, about 10 1/2" tall, he is carved with a sculpted face, painted green with gold accents, his fur is shades of tan and brown. the angels have metallic gold wings and halos. His base is coated in vintage style mica flakes. SOLD OUT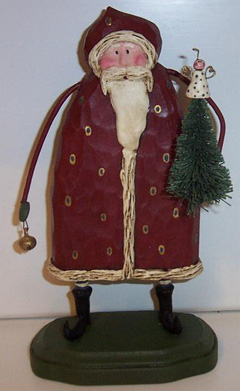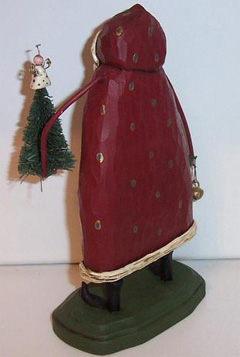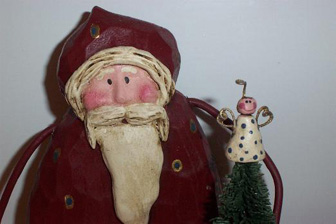 9. Santa with Angel on Tree, this guy is about 9 1/2" tall, he is carved from wood with a sculpted face. He is holding an embossed brass bell in one hand and a bristle tree with a tree top angel in the other. His coat is decorated in metallic gold and blue dots, the angel has blue dots on her dress. SOLD OUT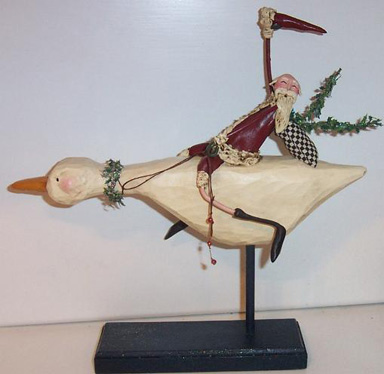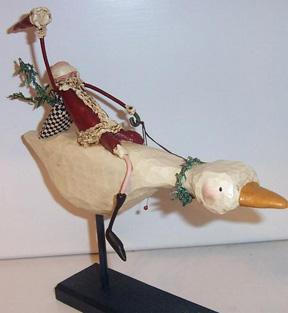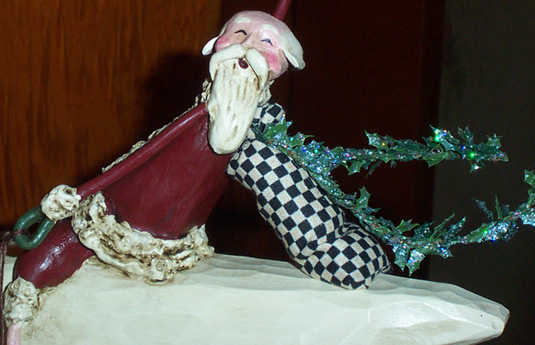 10. Santa Riding Goose, about 12" to the top of his hat. The goose is carved, the santa a mixture of wire, wood, paper clay and fabric. The goose has a wreath of holly around his neck which is also flying from santas' pack. The goose is about 11" long. SOLD OUT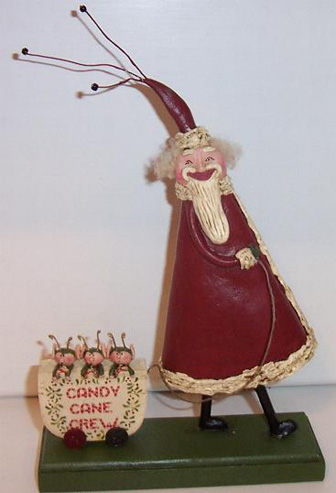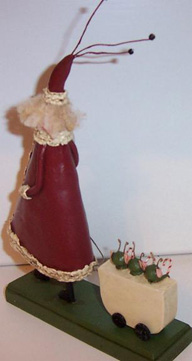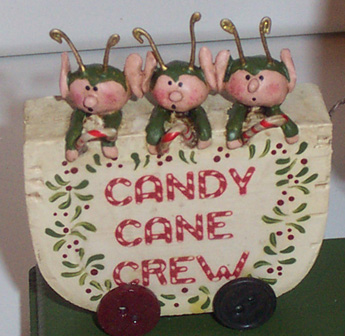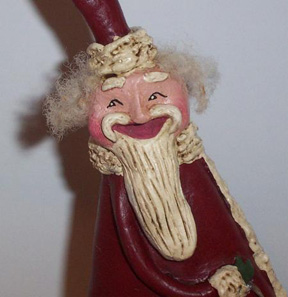 11. Santa Pulling his Candy Cane Crew, about 10" to top of hat. Santa is sculpted of paper clay and paper mache, with glass bead on the top of his hat and wool roving hair. The elves are sculpted of paper clay with gold antenna, holding candy canes. Their cart has mismatched button wheels. SOLD OUT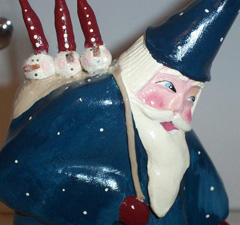 12. Santa Holding a Pack of Snowbabies, this guys is about 11" to the top of santas hat. He has 3 babies in his pack and another reaching up to get on board. The snowbabies have red hats with white chenille pom poms. Santa has a red wood bead on his hat. His coat is painted in shades of blue with snow and snowflakes. The base and babies are covered in shimmering snow, all are sculpted from paper clay. SOLD OUT
To place an order or to contact me please email at:bridges@my180.net
All images are the property of Dawn Tubbs and may not be reproduced.